Stop the Presses! Then clean them!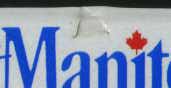 A closer look at the mark left in the top of many Manitoba plates as a result of a stray piece of metal embedded in the embossing equipment.
Back to Manitoba page
© Copyright 1998-2017 David Nicholson. All Rights Reserved.
Last Modified 10/8/2004 (created page).